TOP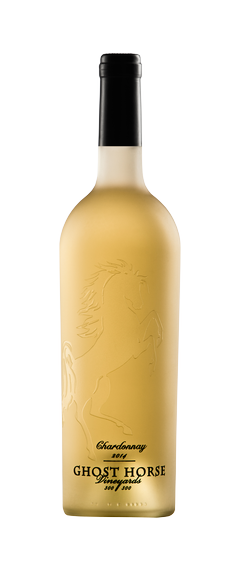 2016 Chardonnay
GHOST HORSE VINEYARDS
Stylistically, the 2016 Ghost Horse Chardonnay is a very ripe wine exhibiting the characteristics of more tropical fruits like guava, mango and peaches. For your education, the less ripe style Chardonnays would be more akin to green apple and lemon flavors.
This is where winemaking gets interesting. Most Chardonnays, if they see oak, it would be for 9 – 12 months. Ghost Horse is in 100% new French oak barrels for over 2 ½ years. This will make most consumers say, "that's a lot of oak". It is, but the Ghost Horse Chardonnay needs it to balanced out the huge amounts of fruit the grapes throw out. We also do not execute the famous malolactic fermentation, which knocks a tremendous amount of acidity out of the wines of the New World. Old World is another discussion entirely, so don't try to compare.
With these techniques of winemaking, we are offering the 4th vintage of the GhostHorse Chardonnay. Our 2016's do have those riper guava, mango and peach flavors and aromas. However, we keep a really nice acidity balance by inhibiting malolactic fermentation. Combine that with the 2 ½ years in 100% new oak and you also get those creamy toasted vanilla flavors and aromas and just a slight hint of butter.
---
---