February 17, 2016 | Cabernet Sauvignon | Ghost Horse World
Cabernet Sauvignon: Health benefits in a bottle
Relax with a bottle of Cab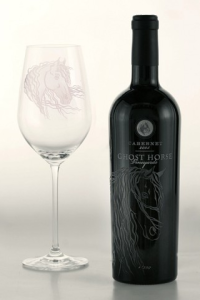 Nearly everyone enjoys unwinding at the end of the day with a glass of Cabernet Sauvignon. We here so much about how drinking alcoholic beverages in excess adversely affects our health, we actually forget that there is plenty of scientific evidence to prove that moderate consumption of wine on a daily basis, can have significant health benefits. We thought we would share some of the current information that underscores this premise. Consider the following:
Antioxidants
One of the most significant components regarding all wines, is the presence of antioxidants in wine. Antioxidants are believed to protect the body's cells and tissues from damage that can lead to the development of diseases such as cancer. Scientists believe that the antioxidants primarily come from the colored skins of grapes.
Heart health and red wine
Many medical studies have been published about how drinking red wine, may protect the heart. In fact, an article published in 2014, researchers studied Italians who consumed significant or daily amounts of red wine, and found a lower incidence of heart disease and cancer.
Other health benefits
Researchers at the Texas A&M Health Science College of Medicine found that a component found in red wine may help prevent age-related memory decline. Researchers in Korea found that a compound which is found in red grapes, can block cellular processes that allow fat cells to develop and grow. Our position is that wine is to be desired for its taste, and if it provides any health benefits, that just makes the beverage even more remarkable.
Ghost Horse Vineyard in St. Helena, Ca
Touring through Napa Valley is not complete without a visit to the Ghost Horse Vineyard, located in the Southeastern part of the Napa Valley, in St. Helena, CA up against the Vaca Mountain Range, home of some of the finest grapes in the world. The vineyard was planted in 1997 and has been owned by Todd Anderson, Celebrity winemaker of Ghost Horse wines at Ghost Horse World. Ghost Horse World is one of Napa Valley's leading estates, and has become infamous the world over for the price and scarcity of its wines.
The vineyard produces 4 separate and distinct Cabernets. Each of the wines are 100% Cabernet. Part of what makes them distinct one from the other is that their fruit comes from a different part of the vineyard and each are produced by its own unique wine making techniques. Ghost Horse Wines, located in Ghost Horse World. Todd Anderson is one of Napa's oldest Winemakers. He and his family have been making wine since 1983. The wines are highly acclaimed Cabernet Sauvignon, bearing an incredible intensity of sweet fruit and exceptional length. The wines are absolutely an Occult Wine Experience! Contact Amy Ash, their general manager, to schedule a private tour of the winery or for a dinner in your area.