February 23, 2016 | Cabernet Sauvignon | Ghost Horse World
Handy tips for leftover Cabernet Sauvignon or Chardonnay
Leftover wine as a cooking liquid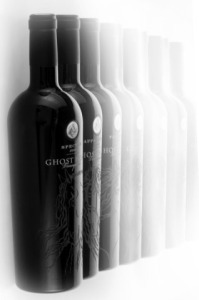 We believe that wine is the ideal beverage for meals and entertainment, and no matter how carefully you plan, there is often some leftover Cabernet Sauvignon or Chardonnay. This is because it is vitally important to let your guests enjoy their wine, naturally. You put a lot of thought into the choice of wine, making sure that the lasting memory is it magnificence, means forgoing the temptation to push a final couple of gulps on a full stomach. The trick is to re-imagine your wine as a cooking liquid. Now what was an exquisite beverage becomes an invaluable ingredient in the kitchen. Do not feel compelled to go out and create a plethora of dishes the morning after the party. You can freeze leftover wine, to have on hand for your next sauce, syrup, jelly, or dish. Consider these creative tips for integrating leftover wine into the kitchen:
Salad dressing
Leftover Cab or Chardonnay combined with a corresponding red or white wine vinegar, chopped shallot, salt, honey, and olive oil will result in a flavorful dressing for a delectable salad.
Braising or stews
Wine is the perfect ingredient to enhance the flavor and richness of stews and large cuts of meat. Slow cooking the meal for a several hours really enhances the flavor of the sauce. Braising vegetables in wine can create an exciting and flavorful side dish.
Cocktails
Leftover wine makes wonderful and full flavored cocktails. There are several bar guides available, or you can experiment by infusing your drinks with wine, fruit, and a splash of your favorite liquor. The end result will be something fresh and flavorful.
Jelly or syrup
A personal favorite, turn leftover Cab or Cabernet Sauvignon into an exquisite sauce for fruit or ice cream. Simply pour the leftover wine into a saucepan, combine it with sugar, and bring it to a boil. Let the mixture simmer until it takes on a syrupy thickness. Adding pectin will turn leftover wine into flavored jelly. Let it cool, then refrigerate for future use.
Ghost Horse Vineyard in St. Helena, Ca
Touring through Napa Valley is not complete without a visit to the Ghost Horse Vineyard, located in the Southeastern part of the Napa Valley, in St. Helena, CA up against the Vaca Mountain Range, home of some of the finest grapes in the world. The vineyard was planted in 1997 and has been owned by Todd Anderson, Celebrity winemaker of Ghost Horse wines at Ghost Horse World. Ghost Horse World is one of Napa Valley's leading estates, and has become infamous the world over for the price and scarcity of its wines.
The vineyard produces 4 separate and distinct Cabernets. Each of the wines are 100% Cabernet. Part of what makes them distinct one from the other is that their fruit comes from a different part of the vineyard and each are produced by its own unique wine making techniques. Ghost Horse Wines, located in Ghost Horse World. Todd Anderson is one of Napa's oldest Winemakers. He and his family have been making wine since 1983. The wines are highly acclaimed Cabernet Sauvignon, bearing an incredible intensity of sweet fruit and exceptional length. The wines are absolutely an Occult Wine Experience! Contact Amy Ash, their general manager, to schedule a private tour of the winery or for a dinner in your area.