February 16, 2016 | Best Vineyards Napa | Ghost Horse World
Wine storing basics from the best vineyards in Napa
Storing wine for the best results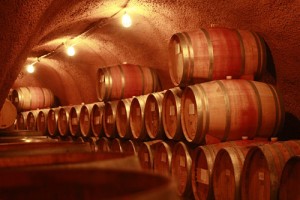 One of the best vineyards in Napa offers some guidelines for storing wine. Perhaps you are in a wine club, or you have bought some wine that you are not planning on drinking right away. That is okay because most wines are best enjoyed within a few years of release. Consider these simple guidelines to keep your wine safe until you are ready to drink it.
Keep wine in a cool place
Temperatures above 70° F will age a wine more quickly than is desirable. Storing wine in high temperatures can result in loss of aromas and flavors. The perfect temperature range is between 45° F and 65° F. Just keep the temperature cool and consistent, you can expect good tasting wines as long as you open the bottles within a few years from their release. Keeping wines in your refrigerator is fine for up to a couple of weeks, but it is not suitable for the long term. This is because the average fridge temperature falls well below 45° F, and the lack of moisture could eventually dry out corks, which might damage the wine.
Reduce or eliminate light
Any type of light, but particularly sunlight will pose a problem for long-term storage. UV rays from the sun will prematurely age wine. This is one of the major reasons that vintners use colored wine bottles. Normal ambient light, and interior electrical lighting is not really harmful for wine, but it can fade your labels over time. Incandescent bulbs are considered to be safer than fluorescent bulbs, which do emit minimal amounts of ultraviolet light.
Wine bottles in their proper position
Bottles are typically stored on their sides in order to keep the liquid up against the cork, which is intended to keep the cork from drying out. If you plan to drink the wine within a few weeks, this is not necessary. For the most part, horizontal racking is an efficient way to store your bottles without taking up too much space. Store your wine on solid racks because significant vibrations could possibly disturb the sediment, and keep your wines from settling.
Ghost Horse Vineyard in St. Helena, Ca
Touring through Best Vineyards in Napa Valley is not complete without a visit to the Ghost Horse Vineyard, located in the Southeastern part of the Napa Valley, in St. Helena, CA up against the Vaca Mountain Range, home of some of the finest grapes in the world. The vineyard was planted in 1997 and has been owned by Todd Anderson, Celebrity winemaker of Ghost Horse wines at Ghost Horse World. Ghost Horse World is one of Napa Valley's leading estates, and has become infamous the world over for the price and scarcity of its wines.
The vineyard produces 4 separate and distinct Cabernets. Each of the wines are 100% Cabernet. Part of what makes them distinct one from the other is that their fruit comes from a different part of the vineyard and each are produced by its own unique wine making techniques. Ghost Horse Wines, located in Ghost Horse World. Todd Anderson is one of Napa's oldest Winemakers. He and his family have been making wine since 1983. The wines are highly acclaimed Cabernet Sauvignon, bearing an incredible intensity of sweet fruit and exceptional length. The wines are absolutely an Occult Wine Experience! Contact Amy Ash, their general manager, to schedule a private tour of the winery or for a dinner in your area.