January 27, 2016 | Napa Valley Wineries | Ghost Horse World
Visiting Napa wineries in the months or February or March
A winter perspective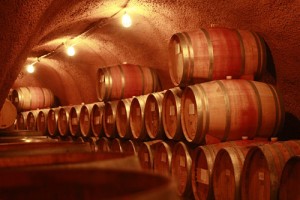 For those who seek to take the road less traveled, Napa Wineries make an excellent vacation destination in the dead of winter. With the exception of Valentine's day, winery activity is slow to non-existent after the New Year through most of March. In fact, February and March are ideal months to visit the Napa Valley for a couple of reasons. First, the vines are dormant, but between the rows, each field is covered with vibrant wild mustard blossoms. Be sure to check the local publications to get the dates of the local mustard festival. Second, the winter months are ideal for those who have made numerous treks to the region during peak season.
Relaxing Napa Valley
This time of year, the pace is slower, offering visitors a chance to spend more time relaxing than standing in line in the tasting rooms. You have more time to explore your favorite wineries, and chances are good that restaurants will have open tables. This is also a great time to escape the dead of winter on the east coast while both airfare and hotel rates are very low. Like the stock investor who buys in a bear market, you can enjoy relaxed booking now, while others are jostling for open dates from April through August. There is no doubt that Napa Valley in the summer is a "must see" experience, but for those who have done it, remember that the wine tastes just as good in the off season.
Just as in the peak season, you can depend upon full concierge services at your hotel or Inn to help you get into the most popular spots ahead of time, making your stay in Napa more enjoyable. We are not suggesting that this replaces the peak season or Fall visits when the grape vines are full and beautiful, or as the leaves change color. We are simply saying that you can enjoy a full and wonderful experience without having to fight the crowds and stand in long lines. We are also sure that the relatively mild Napa winters of temperatures in the 60s is a much more desired break from snow drifts and blizzards.
Ghost Horse Vineyard in St. Helena, Ca
Regardless of the time of year, your Napa Valley vacation is not complete without a visit to the Ghost Horse Vineyard, located in St. Helena, up against the Vaca Mountain Range, home of some of the finest grapes in the world. The vineyard was planted in 1997 and has been owned by Todd Anderson, Celebrity winemaker of Ghost Horse wines at Ghost Horse World. Ghost Horse World is one of Napa Valley's leading estates, and has become infamous the world over for the price and scarcity of its wines.
The vineyard produces 4 separate and distinct Cabernets. Each of the wines are 100% Cabernet. Part of what makes them distinct one from the other is that their fruit comes from a different part of the vineyard and each are produced by its own unique wine making techniques. Ghost Horse Wines, located in Ghost Horse World. Todd Anderson is one of Napa's oldest Winemakers. He and his family have been making wine since 1983. The wines are highly acclaimed Cabernet Sauvignon, bearing an incredible intensity of sweet fruit and exceptional length. The wines are absolutely an Occult Wine Experience! Contact Amy Ash, their general manager, to schedule a private tour of the winery or for a dinner in your area.