February 2, 2016 | Wine Tastings | Ghost Horse World
Plan a wine tasting party at your home
The joy of wine tasting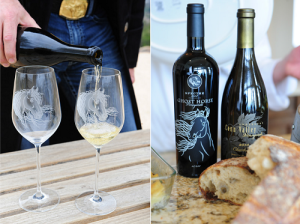 The best wineries in Napa Valley understands that wine tasting is one of the most rewarding and fun social events. In fact, most novice wine drinkers come to a clearer understanding about wines when they taste a collection of wines alongside each other. Wine tasting situation provides a perspective that is extremely difficult to comprehend by tasting one wine at a time. As we mentioned before, wine tasting is a social event. It is meant to be shared with friends, family, and those who have a kindred love for the drink. Let's face it, even the most eccentric connoisseur will hesitate to open five or six bottles of wine for their own pleasure. Wine tasting parties are the perfect solution. However, it is a little bit more involved than simply grabbing a few bottles and inviting friends over. We want to offer a few tips to help make your wine tasting party an easy and engaging experience for you and your friends.
Coordinate your wine tasting
At the risk of sounding technical, your wine tasting must be coordinated in order to be a natural and fun event. Limit the guest count to an intimate group of between 6-10 guests. A smaller group is more inclined to engage in conversation amongst everyone instead of breaking up into groups or cliques. A small group of guest also eliminates the need for buying duplicate bottles of each wine. Just make sure that you have enough on hand in order for everyone to obtain a sip, and enough to spare for those who would like to re-taste. Start out by pouring approximately two ounce tastes for each guest. Provide spit buckets, for those who do not want to become tipsy.
Serve the Right Food
You do not have to be an expert, but it will help if you do a little research on how the acids, tannins, and sugar in foods interact with wines. You should want to offer a broad range of palates such as citrus flavors, dark chocolate, salted nuts, and creamy cheese alongside the same wine. This will allow your guests to experience how particular wines react to various components. If you only plan on serving light fare or hors d'oeuvres, make sure that your guests are aware, so that they do not arrive with an empty stomach. Remember, your wine must be exposed to the air, so remind guests that they should refrain from wearing perfumes or scented lotions. This could overwhelm the wines' aromas. On your part, avoid the use of scented candles or aromatic flowers in the wine tasting room. Be sure that you know your wines, and serve them at the temperature they show best.
Ghost Horse Vineyard in St. Helena, Ca
Touring through Napa Valley is not complete without a visit to the Ghost Horse Vineyard, located in the Southeastern part of the Napa Valley, in St. Helena, CA up against the Vaca Mountain Range, home of some of the finest grapes in the world. The vineyard was planted in 1997 and has been owned by Todd Anderson, Celebrity winemaker of Ghost Horse wines at Ghost Horse World. Ghost Horse World is one of Napa Valley's leading estates, and has become infamous the world over for the price and scarcity of its wines.
The vineyard produces 4 separate and distinct Cabernets. Each of the wines are 100% Cabernet. Part of what makes them distinct one from the other is that their fruit comes from a different part of the vineyard and each are produced by its own unique wine making techniques. Ghost Horse Wines, located in Ghost Horse World. Todd Anderson is one of Napa's oldest Winemakers. He and his family have been making wine since 1983. The wines are highly acclaimed Cabernet Sauvignon, bearing an incredible intensity of sweet fruit and exceptional length. The wines are absolutely an Occult Wine Experience! Contact Amy Ash, their general manager, to schedule a private tour of the winery or for a dinner in your area.