February 16, 2016 | Best Vineyards Napa | Ghost Horse World
The best Napa wine pairings with chocolate
Wine and chocolate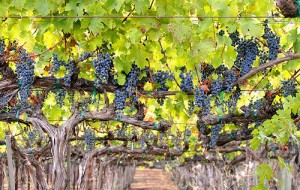 One of the best vineyards in Napa offers suggested pairing for two of the most romantic gifts ever created. What embodies romantic sentiments better than wine and chocolate? With Valentine's Day approaching, it is customary to give chocolates in some form, and chocolate can be the perfect confectionery match to wine. Like all food pairings with wine, one must pay close attention to each selection. This is because many wine and chocolate pairings fight for the same palate space. Fortunately, there are wine and chocolate pairings that will induce a pleasurable experience. We want to offer some suggestions for the very best wine and chocolate pairings possible.
Dark chocolate
In order to be considered a true dark chocolate, the confection must have a minimum of 35% cocoa solids. One must be careful because there are 99% dark chocolates that will easily dominate the palate. Dark chocolates will practically eliminate the effect of other bitter or non-sweet foods. Recommended Wines would be a dessert wine such as a late harvest Zinfandel, Port, Vin Santo, or Chinato.
White chocolate
Technically, white chocolate is not really a chocolate. This is because it does not contain any cocoa, just cocoa fat. However, as they say, "A rose by any other name…" In reality, white chocolate is one of the more versatile pairings with wine. Recommended wines would be any Rosé Port, Muscat, Moscato d'Asti, or Lambrusco.
Milk Chocolate
All the world revolves around the greatness of milk chocolate. The most expensive "milk chocolates have a high percentage of cream. The cream adds a little extra fat, making it a pairing with a significant number of wines. Recommended wines are Sherry, Rasteau, Aged Vintage Port, and Muscat
Chocolate with caramel
Caramel chocolates are the perfect blend of sweet, salty, fat, and bitter. Pairing wine with caramel chocolate can be easily complimentary. Suggested wine pairing would be Sherry, Vin Santo, Cream Sherry, Moscatel, and Madeira.
Ghost Horse Best Vineyards in St. Helena, Ca
Touring through Napa Valley is not complete without a visit to the Ghost Horse Vineyard, located in the Southeastern part of the Napa Valley, in St. Helena, CA up against the Vaca Mountain Range, home of some of the finest grapes in the world and Best Vineyards in Napa. The vineyard was planted in 1997 and has been owned by Todd Anderson, Celebrity winemaker of Ghost Horse wines at Ghost Horse World. Ghost Horse World is one of Napa Valley's leading estates, Best Vineyards in Napa, and has become infamous the world over for the price and scarcity of its wines.
The vineyard produces 4 separate and distinct Cabernets. Each of the wines are 100% Cabernet. Part of what makes them distinct one from the other is that their fruit comes from a different part of the vineyard and each are produced by its own unique wine making techniques. Ghost Horse Wines, located in Ghost Horse World. Todd Anderson is one of Napa's oldest Winemakers. He and his family have been making wine since 1983. The wines are highly acclaimed Cabernet Sauvignon, bearing an incredible intensity of sweet fruit and exceptional length. The wines are absolutely an Occult Wine Experience! Contact Amy Ash, their general manager, to schedule a private tour of the winery or for a dinner in your area.