December 29, 2015 | Chardonnay | Ghost Horse World
From the cellar to the kitchen: tips for leftover Cabernet or Chardonnay
Leftover wine as a cooking liquid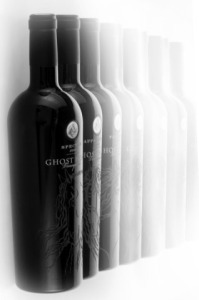 Everyone has experienced being the host, floating from person to person, filling glasses toward the end of the evening, in hopes to avoid having leftover Cabernet Sauvignon or Chardonnay. However, sometimes it is just as important to let your guests enjoy their wine, naturally. This way, their lasting memory is it magnificence, and not that final gulps on a full stomach. There is a myriad of reasons that we may have leftover wine, if you think of leftover wine as a cooking liquid, you will be left with an invaluable ingredient in the kitchen that will enhance and enrich future meals. Let us offer some time tested tips for integrating leftover wine into the kitchen:
Salad dressing
Combine leftover Cabernet or Chardonnay with a corresponding red or white wine vinegar chopped shallot, salt, honey, and olive oil. The result is a flavorful dressing for a large leafy salad.
Poaching
Add flavor and depth to delicate foods, by poaching them in wine that has been seasoned with aromatics and spices. Leftover chardonnay is a great match for eggs and fish. Cabernet Sauvignon that has been sweetened is the perfect poaching liquid for fruit.
Braising or stews
Wine can only add to the richness of stews and large cuts of meat. Slow cooking the meal for a few hours really enhances the flavor of the sauce. Braising vegetables in wine can create an exciting and saucy side dish.
Cocktails
You can use your leftover wine to make full flavored cocktails. Infuse your drinks with fruit and a splash of your favorite liquor to create something fresh and flavorful. Leftover wine is ideal for making Sangria or Champagne cocktails.
Jelly or syrup
Turn that leftover Cab into an exquisite sauce for fruit or ice cream. To turn leftover wine into syrup, pour it in a saucepan, combining the wine with sugar. Bring it to a boil, then simmer until syrupy. Add pectin to make wine flavored jelly. Let it cool, then refrigerate for future use.
Freeze it
Remember, you do not need to go out and create a plethora of dishes the morning after the party. You may be pleasantly surprised to discover that you can freeze wine, to have on hand for your next sauce, syrup, jelly, or dish.
Ghost Horse Vineyard in St. Helena, Ca
Touring through Napa Valley is not complete without a visit to the Ghost Horse Vineyard, located in the Southeastern part of the Napa Valley, in St. Helena, CA up against the Vaca Mountain Range, home of some of the finest grapes in the world. The vineyard was planted in 1997 and has been owned by Todd Anderson, Celebrity winemaker of Ghost Horse wines at Ghost Horse World. Ghost Horse World is one of Napa Valley's leading estates, and has become infamous the world over for the price and scarcity of its wines.
The vineyard produces 4 separate and distinct Cabernets. Each of the wines are 100% Cabernet. Part of what makes them distinct one from the other is that their fruit comes from a different part of the vineyard and each are produced by its own unique wine making techniques. Ghost Horse Wines, located in Ghost Horse World. Todd Anderson is one of Napa's oldest Winemakers. He and his family have been making wine since 1983. The wines are highly acclaimed Cabernet Sauvignon, bearing an incredible intensity of sweet fruit and exceptional length. The wines are absolutely an Occult Wine Experience! Contact Amy Ash, their general manager, to schedule a private tour of the winery or for a dinner in your area.