January 20, 2016 | Wine Clubs | Ghost Horse World
The benefits of wine club membership
Popularity of wine clubs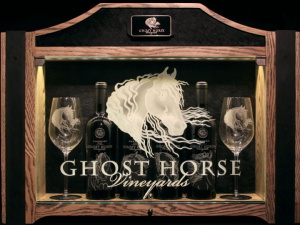 The popularity of American wines has a lot of people interested in joining wine clubs. Admittedly, wine clubs were once the domain of the hard core connoisseur, who sought to stock his or her cellar with the best wines from all over the country. This includes places such as New York, Texas, Oregon, Washington State, and of course, California. However, wine clubs are just as beneficial to wine lovers who buys their favorite wines at the grocery store. Believe it or not, joining a wine club is not just about wine, they provide lots of benefits for anyone who purchases three or more bottles per month. Consider our list of benefits that wine club members typically receive. You may determine that a wine club membership is something you want to do.
Significant discounts
If you join a wine club that offers monthly deliveries of an agreed upon number of bottles, discounts can be as much as 20 to 30 percent per bottle. This is a great savings for even moderately priced bottles.
Access to special reserves
Wineries make sure that an appropriate amount of their special reserves, estate-grown wines, and vintage wines are set aside for their wine club members. Wine club members consider themselves loyal fans of the winery, and expect to gain access to some form of exclusive or special bottles.
VIP space at tasting rooms
If you have ever experienced Napa Valley wineries during peak season, you know that it can be a crowded and exhausting experience in the tasting rooms and the tasting bars. Many wineries section off an area for VIPs such as corporate customers and wine club members. Not only will you escape the crowd, you will receive immediate attention from a bartender while you sip your wine in leisure. It is not uncommon to receive free tastings and/or free glasses of wine when you visit the winery. Wineries that have restaurants attached, often give generous discounts to wine club members for meals and snacks.
VIP winery tours:
Join the right wine club could give you access to VIP tours of the grounds and parts of the winery that aren't open to the public. Depending upon the winery, wine club members receive invitations for special events such as pool parties and seasonal dinners. You will feel like a VIP visiting one of the exclusive Occult Wineries.
Ghost Horse Vineyard in St. Helena, Ca
If you are looking for the ultimate and exclusive experience in the Napa Valley, consider a visit to the Ghost Horse Vineyard, located in St. Helena, up against the Vaca Mountain Range, home of some of the finest grapes in the world. The vineyard was planted in 1997 and has been owned by Todd Anderson, Celebrity winemaker of Ghost Horse wines at Ghost Horse World. Ghost Horse World is one of Napa Valley's leading estates, and has become infamous the world over for the price and scarcity of its wines.
The vineyard produces 4 separate and distinct Cabernets. Each of the wines are 100% Cabernet. Part of what makes them distinct one from the other is that their fruit comes from a different part of the vineyard and each are produced by its own unique wine making techniques. Ghost Horse Wines, located in Ghost Horse World. Todd Anderson is one of Napa's oldest Winemakers. He and his family have been making wine since 1983. The wines are highly acclaimed Cabernet Sauvignon, bearing an incredible intensity of sweet fruit and exceptional length. The wines are absolutely an Occult Wine Experience! Contact Amy Ash, their general manager, to schedule a private tour of the winery or for a dinner in your area.