December 15, 2015 | Cabernet Sauvignon | Ghost Horse World
Understanding what makes Cabernet Sauvignon so delectable
The most popular wine on the planet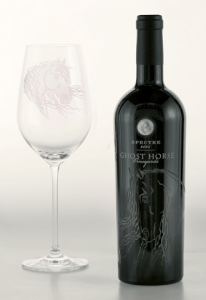 If you asked most people to name a red wine, Cabernet Sauvignon is the first that comes to mind. It has come to be known as the King of Red Wine. Cab, as it is known in some circles, is a full bodied and concentrated wine. If we send another time capsule into space, it should contain a bottle of Cabernet Sauvignon, along with a tag that boasts, "The most popular red wine on our planet." The fruit thrives in both warm and cool climates, and you will be able to find a delectable varietal no matter where you are in the world.
It starts with the grape
There are so many reasons that Cabernet Sauvignon is a great wine, and it starts with a wonderful grape. You may be surprised to learn that it is a relatively new varietal. It is the result of a marriage between the red Cabernet franc and the white Sauvignon blanc sometime in the 17th century, in southeastern France. The fruit is one of the smallest of all grapes that are used to make wine. The skin of Cabernet Sauvignon is comparatively thick and deep purple in color. It is the most widely planted wine grape in the world, and the vine adapts to a wide range of different soil types and climates. Cabernet Sauvignon is found in the hills of Napa Valley, California, France, Australia, New Zealand, Italy, Argentina, and Spain.
Foods that pair well with Cabernet Sauvignon:
Beef
Braised dishes
Aromatic cheeses such as Roquefort, Blue, and Camembert
Roasted eggplant
Game and game birds
Lamb
Lentils
Dishes featuring the flavors of onions and mushrooms
Risotto
Pasta dishes
Short ribs
Combinations to Avoid
Tangy, sour dishes
Fish
Sushi
Light seafood
Oysters
Spicy dishes
Ghost Horse Vineyard in St. Helens, Ca
If you are looking for an exceptional and unique Cabernet Sauvignon, visit to the Ghost Horse Vineyard, located in the Southeastern part of the Napa Valley, in St. Helena, CA up against the Vaca Mountain Range, home of some of the finest grapes in the world. The vineyard was planted in 1997 and has been owned by Todd Anderson, Celebrity winemaker of Ghost Horse wines at Ghost Horse World. Ghost Horse World is one of Napa Valley's leading estates, and has become infamous the world over for the price and scarcity of its wines.
The vineyard produces 4 separate and distinct Cabernets. Each of the wines are 100% Cabernet. Part of what makes them distinct one from the other is that their fruit comes from a different part of the vineyard and each are produced by its own unique wine making techniques. Ghost Horse Wines, located in Ghost Horse World. Todd Anderson is one of Napa's oldest Winemakers. He and his family have been making wine since 1983. The wines are highly acclaimed Cabernet Sauvignon, bearing an incredible intensity of sweet fruit and exceptional length. The wines are absolutely an Occult Wine Experience! Contact Amy Ash, their general manager, to schedule a private tour of the winery or for a Cabernet Sauvignon tasting in your area.